Frequently Asked Questions about dreadlocks, loc extensions, natural hair and how I run my business:

Who are the majority of your client base? Conscious consumers seeking a total natural organic hair locking & product experience.
Why do Folk come to you? Because they anticipate on getting it done right the1st time. My reputation sells itself.
Do you take walk ins? No.. by online appointment only.
How many clients do you see a day

?

As many as can squeeze in during business hours.
Can I get a discount, or pay you later.. barter? No. I've got bills like everyone else.
Do you accept credit cards? Yes, preferably for products and services. Cash tips accepted
Can you see me and mines at the same time? Simply make Appt. for both of you back to back or the same time.
Do you have more women clients then men? Yes.
Do you offer outcalls? No.
Do you do childrens hair? Yes, however I prefer they not be in salon if they're not being serviced
Are you on the bus route? Yes.. here is the marta website.
Do you do white people's hair? I'm proficient in all types. Afro Indie Asian or Anglo Saxon
Do you do interlocks? No, I do not recommend tying peoples hair into knots to make them loc
Do you use gel? No synthetic products with the exception for coloring
Do you accept apprenticeships? Click here for information about GA State Board requirments for apprentices.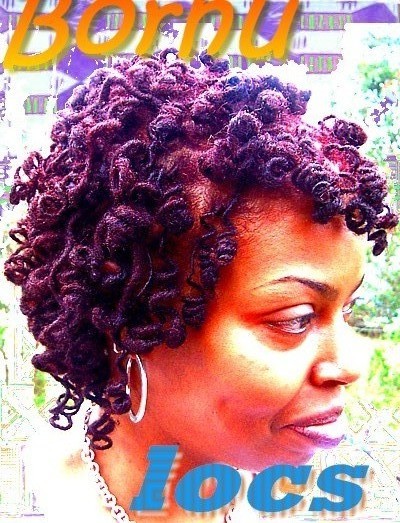 1. For a person starting the lock process, how much hair is needed for loc extensions and bornu locs. Also, what effect does the hair have on my existing dreadlocks . What kind of products do you use specifically for dreadlocks. I am allergic to most over the counter products, mainly shampoos. Do you use anything natural?
.........................................................................................................................................................
You need about 1"-2" inches to get comfortably started if your hair is kinky, about 3"-5" if curly & 6" or more if your hair is wavy or straight. Have enough hair on your head to anchor as support for me to grab hold onto to add the extension. With bornu locs you end up walking up out of the salon as if you've been growing your locs for 3-5 years depending on various factors. But, do not be tempted to pull them into a style until a period of adjustment has occured of about 2 - 3 salon visits. 100% human hair is added to the patron to enhance length, look and style of pre-existing dreadlocks or natural hair. The hair is extremely resilient. Styles can be adorned with various accessories and updos to sport awhile in the professional arena, at church or leisure. Depending on length or how much hair is added to already existing dreads the price can fluctuate! $500 on up for Loc extensions. Bornu locs are $750. The 1st visit is the most labor intensive, approximately 8-10 hours to apply hair for either style. The 2nd visit we lightly shampoo the hair & add more hair to the new growth if necessary or existing dreads. We palmroll locs back into place. It should take maybe 2-3 hours. Black soap is the most important element that I use to cultivate the health of natural dreadlocks. I use black soap to make the hair kink up and thick, especially if the patron has had a perm or uses a lot of conditioner. Conditioner tends to make hair too silky for the locking process to commence. For Bornu Locs, black soap is great to use to avoid loc extension slippage. When shampooing, the bornu locs can slide out when using products that contain slick emollients. To avoid this consider not shampooing your bornu locs with commercial conditioning shampoos.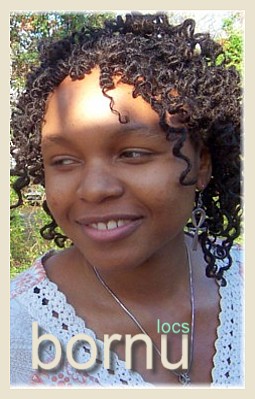 2. I have seen many artist and entertainers with extensions added to their dreads. I would like to offer this service to my already existing clientele who sometimes come in asking for me to make their dreadlocks fuller, more even or longer. I dont know if i should use hair extension glue or gel or what. I am not comfortable knowing what to charge or even how much time it would take to do a whole head?
........................................................................................................................................................
Gel or glue is ones perrogative. However, synthetics can be dangerous to ones health. I don't use them personally because they are my kryptonite. I am allergic to the base ingredients in most over the counter commercial products so I make my own. I am comfortable charging what I know I could afford if a stylist was to do my own hair so I assume people are looking for affordable prices to pay to get reputable service. I only market what I can produce. I have been labeled as Master Loctician by my peers because of my unique knowledge plus skillset. Adding hair to dreadlocks for the aesthetics is a meticulously detailed work that requires time, temperance, patience and artistic vision. You have got to know how to sit, stand, focus and breathe. You have got to have a mental preparedness and be able to keep your meditations free from corruptible things like performance anxiety, chasing time or competing with a client to see who has the strongest opinion. You have got to know what colors go where & when and know how to apply blends of various colors to bring out the eyes or deep embedded hues and tones in a facial complexion. You have got to evenly distribute bags of hair throughout the whole head so that they will have symmetry & know how to part the hair naturally and successfully complete a hairline. Classes and tutorials are available. I charge on a sliding scale depending on how labor intensive it is to do the persons hair. I demand full payment upfront on most services and those prices are listed on the calendar. Lastly, as far as time goes.. Perfect practice makes perfect, which means you will eventually know or have a flow about you with every thing that you do to keep your business going. Time is always of the essence and should be respected to the utmost. So, take into consideration what you have to do and how long you think it'll take to get the job done. You won't know this yet unless you pay attention to the time it takes for you to do what you have to do by what you last did on a previous clients. Repitition vs Time Management.
3. If I have more than six inches of hair & desire to start dreads would you suggest using beeswax? Some say that its not the best product to use, however I do not know what else to start or maintain my starter locs. What do you suggest?
.................................................................................................................................

Most persons who gravitate towards locking their hair develop a sensitivity to the information flooding the internet about what to use to start, maintain or even call their new hairstyle. Alot of websites contain erroneous info because psuedo-stylist simply copy and paste the same false rhetoric from other sites and thus, it becomes like the blind leading the blind. As a result., most of these impressionables end up with a disciples blind-spot and dont go further in to challenging their own beliefs. One can plainly see the inferior results when they compare what they see in the mirror versus looking at clients on the bornulocs website. There is no logical reason to demonize beeswax by itself. It is usually what they melt it down in, like with petroleum jelly, mineral oil or some other synthetic and then call it beeswax 100%, that in fact make it bad for your dreadlocks. Traditionally, beeswax combined with an essential oil or plant extracted nut oil is resolute for persons with hair too silky and straight to lock their hair. Conditioning the hair oftentimes leaves the hair smooth and inhibits tangling the hair as is a prerequisite for your dreads. I would suggest using beeswax if you are not comfortable with your hair being loose curly or naturally straight and you opt not to use a dread perm to lock your hair. As far as safety, a qualified loctician simply knows how to apply the appliances to get you the best result!

Pure Natural Beeswax:
100% Organic Bee Resin Wax.
Made for all hairtypes
Great for Retwisting & Manicuring: Dreadlocks, Loc Extensions, Kinky Twists
Use as often as necessary atleast twice weekly
No Petroleum. No Mineral Oil. No Build Up
Made with Beeswax, Vegetable Glycerine and essential oils
4. How do you start the locs. Do you two strand twist, palmroll the entire strand, backcomb or comb twist? What length of hair is needed to start locs?
........................................................

I improvise when starting locs with a variety of tools and techniques that all depend on the size, strength, health and length of the clients hair. Years of experience working with the many hair-types grant me the wisdom to decide which modality to use best on a new client.

Henna vs Chemical Color
Pros:
100% natural
Cost effective compared to a trip to the salon
Will not damage hair
Easy to upkeep
Beautiful highlights

Cons:
Limited color range
Color depends on natural shade of hair
Messy.. takes longer to get results
Temporarily dyes skin in addition to hair
Prevents future use of chemical dyes and perms, due to its unique coating of the hairshaft. Last months.
Time consuming depending on the desired intensity of color
As a result... I use Clairol Professional Permanent Color.
5. My dreadlocks are about 10" long. I am considering getting them extended. I started out with the sisterlocks and so they are very thin. I want them thick and fuller all around my head. Can I do that with the dreadlock extensions?
.......................................................

To add length and girth to a full head of existing short, medium or long dreads I charge a labor deposit of $500 for dreadlock extensions. That does not include the hair. I use 16" afro kinky human hair from a 2oz bulk package or 10" from a 1oz. The cost is $40 per bag for the 16" and $35 for the 10" so if i use 5 bags its ~ an additional $200. For any size lengths to or pass the shoulders it will take all day so block off calendar from 10-8. I may have you come in sooner around 8 am for this service may take as long as 12 hours to complete at times depending on how big, long, or wide your head is. You will get your moneys worth if you use the hair directly from me since I am most proficient using the brand I have had the most success with.
6. I just started my dreads i have had them in for a month. What can loc my dreads fast and keep them clean?
.........................................................................................................................

Your locs should be shampooed with organic black soap shampoo and then twisted back down with aloe vera gel mixed with either a natural oil like wheat germ, sweet almond, olive, etc,.. to keep your locs from drying out or your scalp from flaking. When you use over the counter products that claim to be good for locs pay attention to the ingredients. Never use any product on your locs that boast mineral or petroleum oil. They clog pores and block energy. Try not to put anything on your locs that you would not put in your mouth.
7. I just got my loc extensions done and it seems like they are falling out at the bottoms. Is there something I can do to help or is this normal? Tell me if there is some way I can help it!
.........................

As an investment your new hairstyle should always be guarded and protected from excessive touching, teasing, twisting or pulling. Once your hair is set you should consider minimal activity for a few weeks. If you are working out or doing some labor intensive keep them covered. Do not be tempted to pull your loc extensions in a bun. Use natural loc hydrants such as our witch hazel / tea tree hydrosol for the scalp to keep them clean and from itching. Use bornu butter to keep the locs moisturized and conditioned. You have to think in terms of linear time. You should reiterate what bornu said to do and not do until that next appointment. When I cultivate locs I am laying down a template for the future which means a step by step approach needs to be taken. But, like in any relationship it takes two, Me and the client. You have to be very patient. Do not risk your locs by proving they are resilient to obstructive behavior. When I start locs rest assure the process will commence immediately. In just days, they will sprout and swell which means they will loose and fall. This cocooning is normal so just leave them alone until your next visit. It is always easy for me to go back behind my own work so dont add any messy greases or gels to try and keep them tight. Instead order our bornu butter, made from real beeswax which is raw resin straight from the beehive.
8. I was wanting to start my locs but Im concerned with thinning around the hairline as I see with many people that have locs. Why does it seem that many of the women in your pics have big gaps or what looks like thinning around the hairline? Doesnt having the hair pulled back all the time also pulls back your hairline? Can you not twist the locs at the hairline going forwards instead of backwards?
........................................................
Its just a matter of personal style and taste. Im an artist. I am inclined to picture first what a style should look like and grow out into. When my clients first come from up under the dryer they are a manifestation of the work that cant necessarily be seen but rather experienced. My experience with herbs, essential oils and hair foods are put into action and then the hair is meticulously placed as it is so desired into a style with universal appeal. I agree that pulling the hair back can be hazardous but it all depends too on the products you put in your hair as to maintain and strengthen your locs. of course, common sense would tell you not to put petroleum, lotion or mineral oil in your locs. they dont have any nutritional value. and with the sun baking them into your crown you are going to experience breakage. after awhile as the palmroll grows out associated with normal growth the style can be manipulated into whatever style you deem fit.
9. With the bornu locs, once you add the hair, can the hair remain in as long as you keep the new growth retwisted, or do you have to keep taking the hair out and getting it redone?
......................................................................................................................................

You can have Bornu locs fashioned in many ways. Skinny or fat. long or short. Black, brown, red. bi-tones or tri-tones. I have products to help treat hair that is broken off or splitting as a result of perm damage. We have scalp treatments to ease the symptoms of your affliction such as the flaking and itching. No, the hair doesnt need replacing unless you are determined on lifting up the color. To go from black or brown to blond you would rather need to replace the hair. But to go from lighter colors to reds or darker colors simply needs depositing the color. Once I have put in the bornu locs your hair will grow into them over a period of months and all you would have to do is keep your locs wrapped tight at night, add a lil moisture to the scalp, and use common sense about your investment. This style can remain in your hair for as long as you maintain them.
10. I already have dreads but i would like them longer and or perhaps thicker in some places. Can you add hair to do this. How much is the cost? How long does this take?
....................................................

For slightly thin dreads, adding afro kinky hair to them will give them the thick fullness desired. For people with locs who need added length and thickness, consider my dread repair service. At normal cost it should be $150 plus the hair to do this style. Approximately 4-8 bags of premium 100% human hair are applied to the already existing dreads of the clients and tree braided. Then continuing on down the locks the human hair extension is intricately twisted around, up and down to the end. Our bornu butter and lightly applied on the hair to give it texture and strength. Dread repair can take up to a few hours and can be done in incremental consecutive visits. Black Soap should be used as well as an essential oil like Neroli to give the hair a natural scent. Before you come for your formal appointment, consider a consultation.
11. What are the pros and cons or better yet harmful side effects to wearing loc extensions? How might I find a reasonably priced loctician that is professional and knows what theyre doing? What credentials might one have to say that they are proficient as a natural hair stylist who specializes in locking hair?
----------------------------------------

If you are contemplating getting Loc Extensions you should beware of counterfeit stylist who market what they cant produce. Impostors lack the skill set & professional credentials that would benefit the customer. Licensed Stylists have a knowledge base about how to protect clients from harmful pathogens and communicable diseases. Your stylist needs to be knowledgeable about how to deal with psoriasis, dermatitis, Seborrhea, eczema and be prepared to deal with these diseases if they are present. Certain synthetic hair types or human hair brands may leave you itching or may break you out. There are ways to pre-treat the hair and scalp to make it conducive to the style you are about to receive. An example of misuse of the mind on the part of the consumer is in bargain hunting for the cheapest price to pay someone who is not licensed to do hair. Then, they are susceptible to going into an environment with questionable sanitary conditions and where unlicensed practices are being implemented. In the end the customer gets exactly what they have paid for. Not just financially, but emotionally and spiritually as well. When you allow a person to do your hair you are taking on that persons energy, good or bad. One person gives, the other receives. I have gone behind the work of many hairstylists. The most common thing their former clients complain about are the aesthetic inconsistencies. In other words, the locs are bulky, lumpy, too fat or thin, sliding out, etc. To put in weave human or synthetic requires temperance, patience and self control. One needs to know where just the right amount of hair goes or it will either become too tight against the scalp for the customer to withstand & the loc will look imperfect.
Only perfect practice makes perfect. Which mean you should definitely go to a licensed professional who has been working with dreadlocks for a long time. For productive members of society appearances are very important. There are tools and trade secrets used to enable the client who wish to sport loc extensions. If you decide to consider me for doing this style for you I will give you whatever I have in my arsenal to prepare you furthermore.
12. I have some medicated spray for dry-shampooing dreads. Im caucasian, I got a stylist to put loc extensions in for me. My hair is super-fine and Im told they may come out if I mess with them. My scalp is really, really flaking and I dont know what to do except hide it in a hair-net type thing. Ive tried the witch hazel/ tea tree oil and its still the same. Could you recommend anything else I might try? Im afraid that after the months its going to take to start locking to my own hair, I'll be left with disgusting looking dreads filled with flakes. After $1200 and 80 hours of work on them, I dont want to remove them. I want them to be permanent.
..................................................................................

If you have had pre-existing compromising conditions with your hair or scalp you should seek out a licensed dermatologist to treat it. However, you should also consider hydrating yourself by getting colon hydrotherapy. Experiencing colonics sells itself. You will leave feeling as if your body inside is an oasis. You are what you eat so if you are eating dry food with no real nutritional value you will get bland barren results on your skin & hair. Our bornu butter is notorious for moisturizing and alleviating dry skin and scalp. Just put it in the microwave for about 20 seconds and apply to the scalp to massage in. My caucasian clients swear by my witch hazel-tea tree product as a remedy for flaking dandruff & itching. It is superior to regular witch hazel mixed with alcohol that you buy in the supermarket or drugstore and the tea tree I use is kosher and organic. The tea tree is real 100% essential oil not what you use out of the beauty supply store. I dont know what products she used to start your locs but most stylist wouldnt hesitate to use the commercial or synthetic gels and waxes from over the counter to save them $$$ and pass on the expense to the consumer. Even worst if the hair she used is not premium 100% human hair, you may be disappointed in the long haul as your skin and scalp may crawl and itch because the fibers use in manufacturing synthetic hair are not conducive to wearing with permanence. Sounds like the mistake only cost you a stack but could be worst. You could end up prematurely bald. Stop skimping around and go to someone who can get them done right the first time and then focus on maintaining the integrity of your dreadlocks by having a real loctician cultivate and manicure your locs instead of just "doing" them.
13. I recently started locs and I feel they are a little large. My loctician said that it is because of my hair texture and as they become heavy she does not want them to break off. I have also heard from other people with dreads that as long as the hair is moisturized that locs can be maintained smaller no matter the hair texture. What is your take on this? Also if starter locs unravel after say 1 month, should they be coil twisted again or just palm rolled?
...................................................
She is right about providing your locs with enough hair to anchor as support for long thick healthy dreads in the years to come. Successful dreads stem from neglect and are full of product and matted hair and down the road can become quite heavy. Your loctician obviously accessed what she thought would be the best way to start your dreads. All locs start out the gate their own size, strength and length depending on the texture and conditon of hair & eventually end up doing their own thing as the weeks progress. In the beginning most clients with kinky hair start out with the coil twist. If theyre unraveling this may indicate your locs are budding and in their process. When you come in after your initial visit your starter locs should be shampooed. Dont let anyone tell you different or you will be faced with a compromising hygiene issue especially if you are using synthetic or commercial products. A bonafide loctician knows the technique associated with shampooing your baby locs without them coming out. Retwisting them involves a series of modalities that depend on how your new locs are progressing. At maturity they should be palmrolled from the root all the way down to the end. She also would have an umbrella program that consists of natural organic shampoos, waxes and gels used in the cultivation of natural dreadlocks. In the interim you should have at your disposal all the information a loctician has because it is a relationship not a secret mission with cloak and dagger tactics to make it seem as if it were rocket science. Its hair and a journey. Every client is different with a set of circumstances that requires a unique approach involving the basic fundamentals. Like, for example:
do not put any thing in your hair you would not put in your mouth
locs equals patience.. at the end of your patience you will find heaven
anyones hair can loc because all hair sheds and locs form from shedded hair
locs are historical.. history is a living organism which means shedded hair is not dead hair.. neither are your locs
locs in all religious style faiths of antiquity were regard to as an appendage (Arm Leg Leg Arm Head - ALLAH, the god body)
locs are a manifestation of study
Baldness is a sign of virility, Graying is a sign of wisdom
Christ's crown of thorns (nazarene covenant or nazarite vow) - symbols of dreadlock priesthood.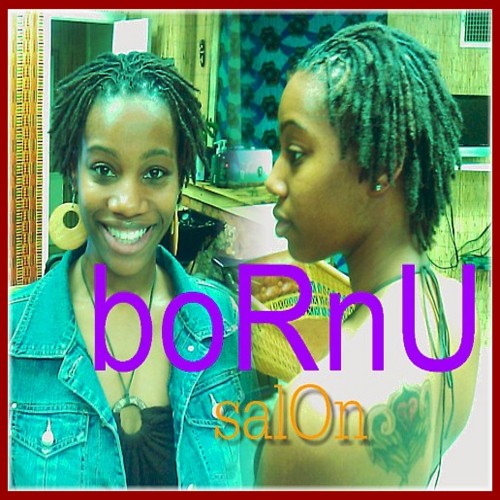 14. My stylist shampooed my locs and retwisted them with the Jamaican Lime Mango Gel. They smelled pretty and lasted for a good week. However, I now have really bad flaking itchy scalp and when I washed my hair I noticed alot of white grayish buildup. It has gotten worst and I need your help. What products do you recommend to fix this.
....................................................

We are a nation of consumers without a doubt. That is American. However, concious consumers consider important aspects of their divinity before wasting their resources. Locs to me should be regarded as a part of your well being thus protect them best you can from selling schemes or commercial products. Products that boasts real pure natural or organic are not going to be found in a beauty supply section of any commercial store. And although you may find that shea butter or black soap bought in a beauty supply store have constituents of nature in them, usually they have been so refined that there is nothing powerful left in the them to supply your locs with what they need. Perhaps you should stop using synthetic products on your locs and lean towards a more natural locking agent found in your kitchen cupboard like olive oil, apple cider vinegar, honey, etc. An alternative to commercial shampoo is my hand-made black soap shampoo. I use in everyday on customers and myself. I trust my hands on the stuff. Authentic Black soap combats white residue and flaky dandruff. It is highly curative with consistent testimonials assuring its effectiveness against scalp disorders. Shampoo locs with black soap, rinse and then condition with the bornu blends hot oil. You can apply it as a warm oil liquid by dripping drops of it to the scalp and style. You will notice a complete healing from your crisis in a matter of hours. .
15. I got coil twist recently, I love the style but i dont think the product used is compatible with my lifestyle. I thought the gel would dry up but it stayed glossy and when i went to sleep it left a greasy stain on my pillow. I wanted to know if there is any other product that you could use to give me the desired look without the mess. I heard beeswax is not good for dreads. How is the hair suppose to stay locked if i do not use something heavy to keep it together. The last person who did my hair used the murrays black beeswax and the black gel and it ruined my clothes and pillow cases & it itched like crazy.
.................................

Real bees wax is not a pollutant. Real bees wax are resin that comes out of the beehive after the bees have left their nest. It comes in chunks that are yellow gold in color and should be put in an organic vegetable oil compound and melted down to blend in for usage. Bornu butter is made with real bees wax. It could be used at any room temperature. It will not stain because it is neutral in color when applied on the hair. The hair absorbs it as food is to the belly and uses it as a building block to loc properly and naturally. Of course the black beeswax and black gel stain because of the titanium dioxide and dyes mixed with the pertroleum and mineral oils placed in each product. Simply do not put anything in your locs that does not comes from nature.

Pure Natural Beeswax:
100% Organic Bee Resin Wax.
Made for all hairtypes
Great for Retwisting & Manicuring: Dreadlocks, Loc Extensions, Kinky Twists
Use as often as necessary atleast twice weekly
No Petroleum. No Mineral Oil. No Build Up
Made with Beeswax, Vegetable Glycerine and essential oils
17. I have been growing my locs for two years now and has started to experience severe thinning around the edges. Is there a way to restore and strengthen my hair back up. I was thinking of using the bornu locs if thats possible.

For many of my clients who experience thinning edges i recommend easing off commercial products, conditioners and habitual twisting or over styling. The locs should have symmetry which means going in the same direction. I prefer palmrolling the locs clockwise onto the base of the scalp using my homemade beeswax balm. I only shampoo with our ayurvedic black soap shampoo which has henna, nettle and neem herbs. Coiling the new growth and giving them time to loc is natural and beneficial. The bornu locs are mainly for aesthetics but still rather a rational alternative to walking around with unsightly scraggly dreadlocks.
18. I wanted to get kinky twists with extensions. About how long would it take? I have roughly 4 inches of hair I just want to reserve enough time.. And would the cost be $75 plus the hair or a different amount?

i would charge per $40 per bag of hair plus $175 for the labor it takes to put in afro kinky twist.. block off the whole day atleast 6 hours. try to come on a day no one else is scheduled. normal cost total is around $200 - $300.
19. I wanted to find out is there an extra cost for styles? I wanted to either have my crinkle or pinned up out of my face.
i suggest you go thru the website for more in depth styles and proceed thru the checkout that way if you want to add on for additional services. Or, simply select a service closest to what you want on the calendar and in the comments area explain what you want and we will settle up at the end.
20. I'd like to order some of your afro kinky to extend my locks. You said they can be dyed is that with regular hair dye or something different.

I dont hear anyone complain about coloring as long as they are using a reputable permanent hair dye. I have been successful myself in dying the afro kinky. I cant say the same for temporary color, henna or rinses however.
21. I regret cutting my locs and now i would like them back. I saved them so can you reattach my old dreads? If so, how do you charge and what is the procedure?
...........................................................................................................................
I suggest you grow out your natural hair into an afro about 1-2"s then come in so I can tree braid, twist or coil your own hair first. Secondly, I can sew your old dreads into your hair using a special thread and needle. Lastly, if necessary i would add afro kinky human hair from a bulk package to mesh and blend it all together. It may require adding some color but we will have to see when we cross that bridge.
Some people require a richer medicine than others so I would charge depending on how labor intensive it is to extend the service. Simply get on the calendar for loc reattachment. Block off the ~4 hours and dont forget to mention in the comment area what we're dealing with. For example, if your hair is long, short, black, brown, etc... Upon scheduling your appt, you will be charged an initial labor fee deposit. Service inludes shampoo, hot oil and condition plus loc reattachment.
Consider coming in for a consultation first if you have any indepth inquiries or so you want to give me a better idea what we are up against.
22. I have what appears to be lint or whitish residue in my dreads forming in spots either at the scalp or at the ends. I can not seem to get rid of it. What products can I use to remove it? Why does this keep happening? .............................................................
Your scalp has sebaceous glands that produce a natural oily substance called sebum that grows out and coats each hair follicle. Sebum is usually clear but starts to appear visible as your locs start to bud from the shedded hair that results from your dreads locking and combining all the elements of nature from outside, your pet hairs, the lining of your collar from shirts to scarfs, dust, lint and whatever else your hair picks up from outside. In other words, sebum serves as a coagulant or natural hair glue to keep all the hair in place as you are embarking upon your loc journey. This really is more of a blessing than a burden to insist that you really do not need any added product to dread up. Aside from coloring your locs to cover up the apparent residue, many people try to pick it out which only results in your locs coming apart and becoming poofy at the ends. Oh well, an occupational hazard with growing dread. Palmrolling the locs evenly awhile spraying with witch hazel or vinegar has been helpful but dont forget the heat from a blowdryer. This helps to melt it down in your locs. My advice is to make sure your locs get all the way dry so as to not allow them to mildew or get moldy which comes from wet oily or sweaty hair stemming from an overgrowth of bacteria when your locs have not been maintained properly. It makes your locs smell like sour milk or earwax. It takes about 45 minutes to 2 hours to thoroughly dry dreadlocks. Use our herbal loc shampoo for cleansing and any of our scented hydrosols for conditioning.
23. I have bald patches or thinning that looks like alopecia but it only comes back when I start locking my hair. When I cut them off everything is fine and my hair grows back. Do you have a product to help keep my hair growing evenly throughout the stages of my dreadlocks journey?
I have noticed a lot of clients going thru this. At first I thought overstyling, rubber bands, allergic to products, but then I did some further research and discovered that this is a very common parasital condition brought on by demodex. Demodex folliculorum are housed in hair follicles and obtain their nourishment from the cells. Their main source of food is sebum, a human glandular secretions within these follicles. It is also here where the larvae are nourished and grow into the adult form of the mite. There is no specific harm to humans except that some people may have allergic reactions to demodex infestation. Such reactions may cause hair loss or the development of acne. Black soap is great to combat this issue but it really helps if you thoroughly dry your dreads. Conditions arise where bacteria can grow and thrive especially in moist environments where the hair grows long and since dreadlocks stem from neglect this can easily become a hygiene issue. Also consider spraying twice a day generously with my witch hazel hydrosol loc sprays containing either the tea tree, clove or eucalyptus.